Ad Miracle Incorporated
Welcome to Ad Miracle Inc., your creative resource for ideas and solutions to a variety of marketing challenges, from developing traffic at trade shows with portable products to outdoor vinyl banners and aluminum signs.

Ad Miracle Inc. has been providing promotional products for over 12 years.

Ad Miracle Incorporated was established in January 1998 in a facility in Miami, FL We started with a staff of two people and one primary product, custom banners.

Now, our business has grown, we have relocated to Hialeah, FL and setup an commercial printer service.

Our top rating within the promotional products industry assures you of quality and timely production for your custom projects. Our product line contains over fifty products, continuously growing in fabrics and materials.

Ad Miracle Inc. has turned into America's favorite supplier and Miami's printing services to continue to develop with the exhibit, signs and display industry.
Featured Item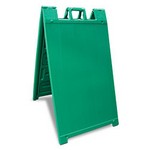 Green A-Frame Sidewalk Sign - Blank (25&...
Durable plastic construction, ideal for outdoor use. Can be ballasted with sand. Includes imprint and lamination. Please supply art at Real Size 120 D.P.I in .JPG or .TIFF. 25" W x 45" L
$125.00
Featured Blogs
How to Achieve High Quality Print Services for Your Business in Miami, Florida Printing requirements are inseparable from any business. No matter whether you have a large business o...